When Sinners Say "I Do" by Dave Harvey
An evening book study for couples.  Led by Tim and Renee Becker.
Click HERE to sign up.  
---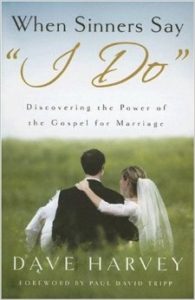 Most marriage books focus on fixing the behaviors in order to fix the marriage. Even many that use Scripture often lean in this direction. The problem is that both the Bible and your experience teach that your behavior problem is rooted in your heart problem. Scary-threatening, right? I like to think of myself as a person that is really all right on the inside, but keeps making "mistakes" on the outside. Not true: every word I speak and action I take spring from the overflow of my heart. This is bad news – a heart transplant is painful and nearly a miracle. How can this happen? The gospel of Jesus Christ promises that with the new birth come both forgiveness for my sinful heart and a new heart! While God has started the gospel changing process for many of us, God has not finished it with any of us. And the broken places in our marriage testify to that. Each husband and wife in this church is still in great need of more heart renewing.
---
Message from Tim:
This study is for couples to get together with Renee and me to dive into this book study. I'm a little afraid, because I like myself just the way I am. I'd rather Renee have to change than me. But I'm hopeful too, because I hear the truth of the gospel and believe it and want it for myself and my marriage. 
If this sounds like you, then join us. Week to week, we'll be reading the book on our own and coming together to discuss it and how it applies to our lives.  In addition we'll be looking to cultivate some genuine Christian fellowship: getting to know each other, praying together, talking together about the Scriptures and our lives.
---
Details: 8 weeks, starting the week of June 6th @ FBC
Day: Mon OR Wed – whichever works best for most
Time: Evening for 1 ½ hours per class – whatever time works best for most
Homework: reading a chapter of the book each week
Cost: $10 for the book
Sign up: click HERE to sign up online or use the sign up sheet in the FBC foyer. Deadline to sign up for group book order is May 29th.