Open Your Bible: God's Word is for You and for Now
An evening book study for women.  Led by Kristyn Brown. Click HERE for promo video.
Click HERE to sign up.
---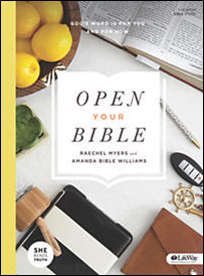 Are you longing to hear from God, aching to know who He really is? The beautiful truth is this – we can encounter the living God today and every day in the pages of His Word.
Whether you are a seasoned Bible reader or struggle to keep up with studying Scripture, Open Your Bible will leave you with a greater appreciation for the Word of God, a deeper understanding of its authority, and a stronger desire to know the Bible inside and out.
Join Raechel Myers and Amanda Bible Williams, the women behind She Reads Truth, in this 7-session Bible study. Using powerful storytelling, real-life examples, and Scripture itself, Open Your Bible will quench a thirst you might not even know you have- one that can only be satisfied by God's Word.
The Bible is sufficient and true. God's Word is for you and for now.
---
Study Details~
7-weeks
Tuesdays starting June 7th
6:30-8:30 pm
@ FBC
Cost: $15 for the book
Sign up: click HERE to sign up online.  You can also sign up on the sheet in the FBC foyer. Deadline to sign up for group book order is May 29th.