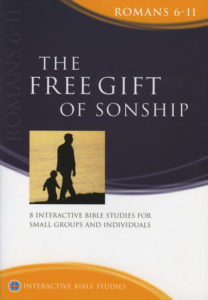 "The Free Gift of Sonship,"  a study on Romans 6-11
We will purposefully dive into the personally challenging teaching about obedience and righteousness in chapter 6; the demanding discussion about whether God has kept His promises to Israel in chapters 9-11; and the majestic teaching of chapter 8 regarding the Spirit, the Christian life, and the hope of glory.  Whether we are man or woman, the glorious gift of God through the gospel is that we are his adopted 'sons' – heirs of His kingdom and co-heirs with His Son, Jesus Christ.  Sign up today HERE!
Tuesday mornings 9:00-10:30 am, Sept 13th – Nov 8th
At First Baptist Church, rear entrance (670 W. Broadway Ave, Medford)
This study is facilitated by Barb Enerson and utilizes the workbook as a guide through the study of Romans, ch 6-11. Homework is encouraged, but optional, as the material is reviewed during the study each week.
Sign up HERE.  Sign-up deadline for group book order is August 28th.  $9 (for book cost) can be paid to FBC on or before the first class.  If you are signing up after the deadline, please order your own book.
Barb at (715) 803-6104 or sonofener@exede.net.