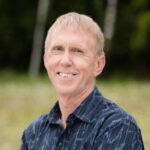 The Story truly is the story we are all living. The themes that God has set forth are the very themes that make up any great story. Something beautiful and good is threatened by forces that seem to act contrary to what is good. There is a tension that builds that can only be resolved by some heroic act by the one who is portrayed as the main character in the story. At some point the hero appears and with great courage and often sacrifice rescues that which has been captured or fixes that which has been broken. In the end there is a resolve of the problem and a happily ever after. There are several things that make "The Story" so unique God is writing the story. He wrote it, he is directing it, he produced it, and he is writing it on the pages of human history. We also know that every director has a specific message he is seeking to portray through the story. As we walk through The Story, it will only become clearer and clearer as to what that message is. Copies of The Story are available at FBC. Find The Story reading schedule here.
The old and new testament have recorded for us the events that have taken place in this story down through the many generations over which it has been written. It has taken 40 generations and 40 different authors to bring to us many of the key elements of this story. Rather than a collection of random stories we begin to see as we look more closely that it all fits together in one seamless story of God's plan of redemption for the world. One final thing about the story: it's still being written. We are in this story right now as we live out our lives. We are on stage contributing and playing a role in it. Our actions and words are all being recorded on the pages of human history as we live out our lives. The events of FBC over the past year are part of the story. Covid is all part of the story. The upcoming elections are part of the story. We more than people in the beginning have a much fuller view than those who came before us. We look back and see that we are well along into the story.  We wonder if we are nearing the end and yet part of the story is that it never ends.
It's my prayer that everyone walking through this story will find themselves among those whose names are written in the book of life. That as a result of walking through it one more time that we will understand even more deeply the wonder and  grace and beauty of the God who is writing and directing  and speaking through it. It's my prayer that no matter what script we are called to live out that we would realize that this is all something far greater than ourselves. Be encouraged, it is no one's story but His. He will be faithful to complete it, and for those who are His, it will be amazing.
If you or your family has been impacted by THE STORY, we would love to hear from you. Reach out to us at office@fbcmedford.com.