"The Freedom of Christian Living" a study on Romans 12-16
Paul spells out the practical implications of God's amazing free gift of life and sonship in the Gospel.  He deals with our relationships with each other, our interaction with the non-Christian world around us, our attitude toward civil authorities, and more.  Sign up to join this study of Romans 12-16.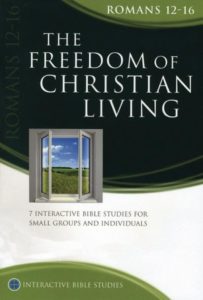 Tuesdays 9:00-10:30 AM beginning April 18 in FBC's Fireside room.
Facilitated by Barb Enerson, we will use the workbook to guide us through the study of Romans, ch 12-16.  Homework is encouraged, but optional, as we will review together each week.
REGISTER HERE by April 2 for group book.