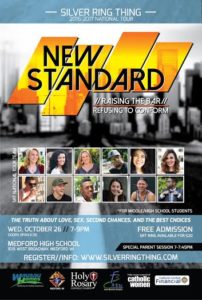 FBC-ers:  How can you help?
This is a worthy event that will bring God's truth to our teens. We are looking for volunteers to help with the event:
Before show truck unloaders

Admissions volunteers

After show truck loaders

Security

Host families for the performers
If you are interested, please contact Pastor George or Amber Chaffee for more details.
Silver Ring Thing:  TRUTH ABOUT LOVE, SEX, SECOND CHANCES, & BEST CHOICES
Wed, Oct 26, 7-9pm @ Medford Area Senior High
7-12th graders & Parents, join us at the MASH Auditorium for this FREE, 2-hour stage performance which incorporates high energy music, videos, skits, special effects, and comedy delivered in a concert-style approach with which teenagers can respond and relate. The event is presented by a team of peer-level students serving as role models and examples of the power and freedom in living out this calling. 
The message is one of hope, boldness, and truth that's jam-packed with powerful speaking and personal testimonies. The program also proclaims the grace-filled message of the Gospel, going way beyond a call to abstinence to full life in Jesus Christ! 
More info @ silverringthing.com/events/medfordwi