It's a blessing to connect with each other! Christian community and relationships help us grow in Christ. That is God's good design and part of the heart of FBC. Link events are a fun way to get to know others better, build community, and have some fun together. FBC is hosting link events between services at 9:45 AM on various Sundays this summer. 
Link events are an opportunity to be a blessing to others, but it might take a little thought, care, sacrifice, and initiative. You might be surprised by the blessings you receive in return. So, let's commit to inviting and connecting with others. Mark your calendars, and join us for these link events.
 Nature Scavenger Hunt   Sunday, June 6 at 9:45   Come join in on a family-friendly nature scavenger hunt outside! This will be an opportunity to enjoy God' s creation, explore with your family, and get to know other families a little better. Gather in the grassy area behind the church gym to begin. An optional craft option will be available for kids when you are finished hunting for your treasures. 
 Big Volleyball   Sunday, June 20 at 9:45   Gather in the gym for big volleyball. This is not your traditional volleyball, so you don't need to be a pro to play. For starters, we use a BIG beach ball and fill the court with players. Join in for a game or grab a donut and cheer on the players.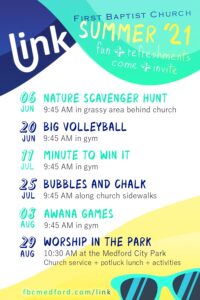 Minute to Win It   Sunday, July 11 at 9:45  Fun for everyone! Teams will race time trying to complete various challenges in under 1-minute. Can you beat the clock? Will you take on the challenge? Prizes will be awarded for those who do. It is guaranteed to be fun to do AND fun to watch, so grab a donut and some coffee and join us. 
 Bubbles & Chalk   Sunday, July 25 at 9:45  Whether you are 5 or 55, come outside and show off your skills with some chalk art. There will be stations with prompts that will guide you and your creativity. You can do one prompt or all of them; it's up to you. Prizes will be awarded to the crowd favorites. Bubbles will be available for additional fun. Even if chalk art or bubbles are not for you, make sure to grab a donut and some coffee and get to know some fellow FBCers.
 Awana Games   Sunday, August 8 at 9:45  Start doing push-ups, sit-ups, jumping jacks, and stretching because you are going to need to be in shape. Kids, bring your parents and grandparents and see if they can keep up! Don't forget to wear shoes that you can run in. Awana Games are a fun challenge and also great to watch, so feel free to grab a coffee and donut to enjoy from the sidelines. 
 Worship in the Park   Sunday, August 29 at 10:30 AM   
Church service, potluck lunch, & activities at Medford City Park.