GET READY TO RUMBLE!
The Awana Grand Prix is a pinewood derby car race with a 45-year-plus track record of fun and excitement. Clubbers create their very own Grand Prix race cars at home using the kit supplies which includes a block of wood, a set of wheels and axles, and regulations. They then go head-to-head with other clubbers' cars on race day. The top designs and fastest cars receive special awards while all competing clubbers earn a participation ribbon. Pinewood block kits for derby cars are available for purchase at the Awana registration table on Wednesday evenings.  The kits each cost $3 or 10 Awana bucks.  We invite you to come and watch on race day if you would like. The race will be held in the church gym.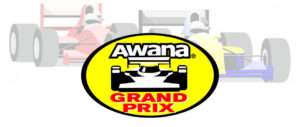 There are three classes of racing:
T&T – for Truth & Training students

Open – for any Awana student

Mothballs – for any previous Awana Grand Prix cars
For more info, contact Awana Commander, Brittnae Maris, at fbcmedfordawana@gmail.com.