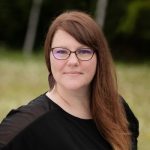 LOOKING BACK WITH PRAISE TO GOD
This year's Winter Retreat was an incredible experience for all of us who went. 28 students and 4 leaders (including our friend Pastor George) headed up to Arrowhead Bible Camp for a weekend of retreat, friendship, fun and encouragement. We are glad to report we got it all! The weather was cold but our friendships and time with the Lord in sessions were warm and full of challenges to rise up in Christ.  We took time to be encouraged to rise up in worship, see how we are raised to new life in Christ, challenged to rise above the world and emboldened to raise the banner of the gospel. We met new friends and grew closer with old ones. The tubing hill was a hit as well as broomball and our annual kickball tournament. We ended our time together being challenged to bring what we learned there and put it into practice in our daily lives. Many students shared that God was working in their hearts and challenging them to live out what was taught. I would encourage you to ask a student about their time at Winter Retreat and partner with them in prayer with what God showed them. Faithful is he who called you, who also will do it. 1 Thessalonians 5:24
THANKFUL FOR YOUTH WEEKLY MINISTRY
God continues to challenge us each week as we dig into his word and learn to live it out. During Sunday School we are learning about evangelism; being challenged to step out as the tools that God uses to share His wonderful love, the sin problem we all have and His great rescue plan with the world. At Youth Group the Elevate students (9-12th grade) just finished the Healthy You program brought to them by Abiding Care. We are thankful that God cares and has told us what his good plan for our sexuality is. We are also thankful to have each other for encouragement as we live out God's plan. The Ignite group (7-8th grade) will be starting the program next week. May God bless our teens and help their hearts treasure him and his good plan for them. 
LOOKING FORWARD WITH HOPE IN JESUS
The month of April brings two opportunities for you to partner with us as we fundraise for two summer trips: Elevate's Mission Trip and Ignite's Mystery Trip. 
Elevate students along with four leaders are planning a mission trip to Boston in June to serve others showing and sharing the love of Christ. This group is partnering with Next Step Ministries (a youth mission organization). We will have the opportunity to come alongside two ministries in the area – the Boys and Girls Club and a homeless ministry called Common Cathedral. FBC's Easter Breakfast on April 17 will be served by students going on the trip; all donations given will go toward teen's cost for the mission trip. 
Ignite students and two FBC leaders are pressing pause on the busyness of life this July to partner with Forest Springs for a Mystery Trip. This trip's location and activities are a mystery but what I can tell you is this: we will be adventuring through God's creation, pausing to take time to grow in relationship with each other and our God as well as take time to serve others. Ignite teens will be fundraising at the Medford Area Quilt Show at the Simek Center April 23 & 24 as the lunch vendor. The proceeds will go toward the teens cost for the trip. Partner with us by coming over and buying lunch.
We ask that you would be praying for godly wisdom in our planning of these trips, for God's blessing in our fundraising, and most importantly that God would grow our faith through it all.